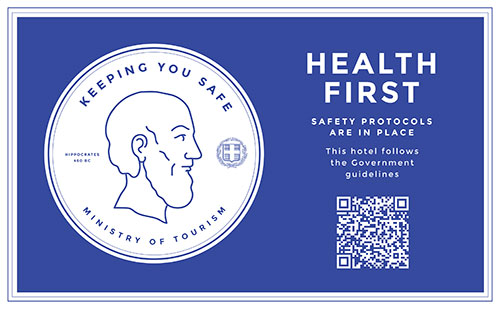 GLAROS BLUE is open to provide you with excellent accommodation experiences.
We consider it important to inform you of the measures we are taking to ensure the health and safety of our employees and visitors.
These measures are included in the personalized action plan of our hotel, which has been approved by GR HOTEL ASSOCIATION and we have received the Health First badge.
Our priority is the meticulous cleaning of all hotel areas, following carefully the cleaning, hygiene and disinfection protocols that have been announced by the Ministry and EODY (National Public Health Organization).
These protocols include:
Regular training of our staff on hygiene issues.
Use by our staff of all available protective equipment (masks, disposable gloves, disposable apron). A sufficient stock of these protective equipment is always kept at our hotel.
Cleaning and disinfection at all points of the facility.
Cleaning of the rooms at each change using a steam cleaner with a temperature > 70°C and disinfecting keys and room cards.
Hand disinfection devices in each room and in the reception area.
Frequent cleaning and washing of the public areas and surfaces of frequent touch, including corridors, stairs, knob switches & handles.
Contract with a collaborating physician to monitor any suspected case.
Due to COVID-19, we have established accommodation rules so that together with the appropriate hygiene protocols and operating procedures, the well-being of our visitors during their stay with us is ensured.
These rules of stay include:
In the public areas of the hotel and in the reception area we require that our guests keep a distance of two (2) meters from the next in order of priority.
, in case of cough and / or sneezing, we provide our guests with a face mask, for use in all public areas of the hotel.
We recommend our guests when entering and exiting our hotel to use the special hand sanitizer that is placed for this purpose in the reception area and in each room.
We encourage our visitors to contact any member of our team for suggestions and / or comments that will improve our operation.
Upon arrival you will receive a special form with instructions and useful information on measures and means of protection.
According to the protocols of the ministry, it is obligatory to keep a file of personal data of all hotel customers for reasons of public health. The details will be requested upon arrival and are kept by our hotel in accordance with the General Data Protection Regulation (GDPR).
Based on the protective measures and procedures that we have established, we are confident that our facilities and services remain safe and we are ready to serve you.
Our staff exhibits a high level of individual, social and professional responsibility.
We appreciate every visitor who honors us with his preference to our Hotel.